by Henry Whorwood, Head of Research and Consultancy, Beauhurst
Beauhurst has tracked 31,828 high-growth companies in the UK since 2011, of which 118 have held IPOs. 74 of those listed on AIM and 50 of those raised equity from private investors before listing.
In the period 2011 to 2018 they raised £528M before listing, in 132 rounds for an average of £4.06M. In many cases, these companies will have raised through a combination of SEIS, EIS as well as from VCTs.
On average these companies raised in total £11.8M over 4 deals before listing. Typically a company waited 500 days between its last private fundraising and its first raising on public markets. Because of this delay, the amount raised by companies before IPOing appears to decrease year on year but this downwards trend is actually reflective of the lag between last private issuance and first public issuance.
The top investors into private businesses before they go on to list on AIM represent a particular subset of institutional investors. They are often the top investors into AIM listed businesses because of the sectoral preferences present in their portfolio. That is to say, because Life Sciences and Medical Technology businesses are some of the most likely to list on public markets, their private investors are some of the most likely to have backed a company that goes on to list.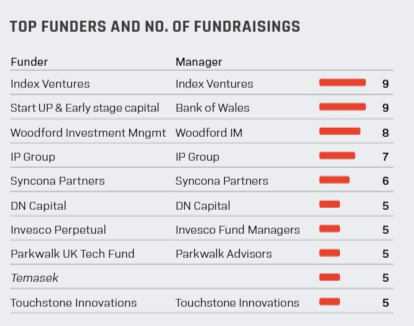 Index Ventures and the Development Bank of Wales are the joint top backers of companies that went on to list on AIM. The Development Bank of Wales is a prolific investor by virtue of co-investing in most deals that happen in Wales; Life Sciences is a sectoral strength of Wales', so the Development Bank's portfolio has a proportion of companies that went on to list. Woodford, through his Patient Capital Trust and Equity Income vehicles, is also a prominent backer of companies that have listed on AIM. These are the companies that would have been a relief to Woodford as his fund approached its liquidity thresholds – even if in the end they were not enough.
Although many of the companies that raised privately before listing on AIM are in Life Sciences and related sectors, the company which raised the most before listing was in fact a tissue paper manufacturer. Accrol Papers raised £81M through a combination of equity and debt before going on to list in an IPO which raised £63.5M for the company.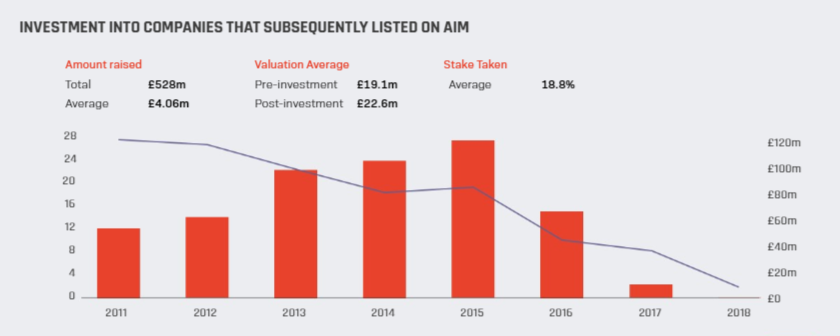 This piece has been published as part of the Alternative Investment Market Report 2019. For the full report click here