Paul Jarvis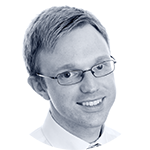 Paul Jarvis
Senior Editor - Financial Services
02033751700
Paul joined Intelligent Partnership in April 2019. Before that, he was for nine years managing editor of Partnerships Bulletin and P3 Bulletin, two titles dedicated to covering the infrastructure finance market across the globe. He was a regular industry commentator, having spoken on the subject in the national media including the BBC and Guardian.
Paul began his media career at online content provider DeHavilland, working as a staff writer and later heading up a team of journalists.
Paul has a bachelor's degree in law from the University of Oxford.