Dominic Thomas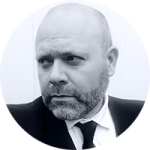 Dominic Thomas
Founder & Principal - Solomon's
Dominic Thomas is the founder and Principal of Solomon's. He has now been advising clients for over 23 years.
He formed the company in 1999. At the time we were one of only a handful of IFAs operating on a proper fee system.
We are a dynamic small firm that has always operated on a fee system. The new rules set by the the Financial Services Authority (now the Financial Conduct Authority) require all advisers to charge proper fees from 2013, meaning that we were nearly 14 years ahead of our time, with a wealth of experience that other firms simply don't have.
From the very beginning, we removed commission from protection products and created a "level playing field" for investments, charging the same fixed fee across all new investments. It is easy to forget how radical this idea was at the time and how much money our clients have saved as a consequence.