Guy Tolhurst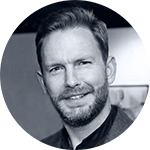 Guy Tolhurst
Managing Director                
07977 406337
Guy launched Intelligent Partnership 10 years ago after seeing great opportunities to better serve investment providers, financial advisers and wealth managers across a diverse range of investment strategies and sectors. Intelligent Partnership has naturally evolved into an award-winning and trusted provider of accredited research, events, insights and education on a range of alternative investments.
Guy's commitment to recognising the role and impact of the investment and intermediary communities in supporting small and medium-sized businesses led him to launch the annual Growth Investor Awards and 100 Stories of Growth – Capital at Work campaign, both helping to inspire more UK growth and scale-up success stories.
Guy is an engaged public speaker, SME advocate and industry commentator, helping to raise standards and professionalism across the alternative investment industry. He is an executive director of in:review and a director of MICAP, Intelligent Partnership's sister companies in the Indagate Group.