Peer-to-Peer Lending Report 2016/17
Register for FREE and INSTANT ACCESS to the 2016/17 Peer-to-Peer Report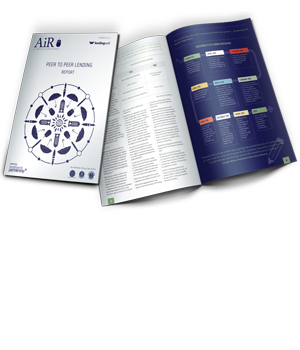 Understand the Primary investment characteristics and risks of P2P lending
Get an overview of history and past performance of the UK P2P sector
Review key developments in regulation for the sector
Learn about government support and institutional involvement in P2P
Find updates on how to give advice on P2P investments
Explore the different investment options in the P2P market
Earn 2 hours of CPD from the CISI, CII and PFS
Brief Overview
Peer-to-Peer lending has grown rapidly since its inception in 2005. Today the sector is responsible for over £7bn of lending cumulatively, and the UK market transacted just over £3 billion in 2016. This growth is far from over, with many analysts predicting the market will continue to expand over 40% annually, reaching £30.3bn by 2022. This report provides a detailed look at the investment case, the history, the current state of the market and the outlook for the future, so readers will be able to approach the sector from a position of knowledge.
"As an alternative investment, Peer to Peer lending combines the benefits of further portfolio diversification as well as delivering clients a source of steady and predictable returns. Today's low interest rate and low growth environment means financial advisors must seek to offer client's a more balanced portfolio that moves away from the traditional equity bond allocation. LendingWell is a proud sponsor of the P2P Lending report which, we hope, will become the go-to point of reference guide for financial intermediaries exploring direct lending strategies for their clients."
Tim Schlesinger
Chief Executive at LendingWell

Comments on the P2P sector
"Inevitably the UK now faces a difficult period of economic and political uncertainty. But I would urge observers to remember that none of this short term turmoil changes the fundamentals of p2p lending. People will still need to borrow, save and invest. And P2P lending's clear consumer and economic benefits are not going to go away."
Christine Farnish, Chair of the Peer to Peer Finance Association
"As someone who has personally been using peer to peer sites for a good few years it has always been strong and consistent in terms of returns, but there is no guarantee that will happen…Peer to peer lending is not saving – it's somewhere in between saving and investing."
Martin Lewis, MoneySavingExpert
"Banks can learn about both cost-effective loan origination and data-driven due diligence from the P2P platforms. I think most of the banks are sniffing around for acquisitions."
Stian Westlake, Executive Director of Research, Nesta
"We believe that peer to peer lending is a brilliantly innovative new form of finance – which we want to see continue to grow and evolve. P2P platforms and fintech provide competition, ideas, and technology – making people's lives better and the markets more effective".
Harriett Baldwin, former Economic Secretary to the Treasury

About the sponsor
LendingWell provides a single platform designed specifically to serve retail investors by allowing them to access analyse
and invest into the broad P2P lending market. The platform will offer simple and innovative structured products, including bonds, secured by a diversified portfolio of loans suitable for a mass market retail investor base.