A Professional's Guide to Estate Planning
Register for free and instant access to the Professional's Guide to Estate Planning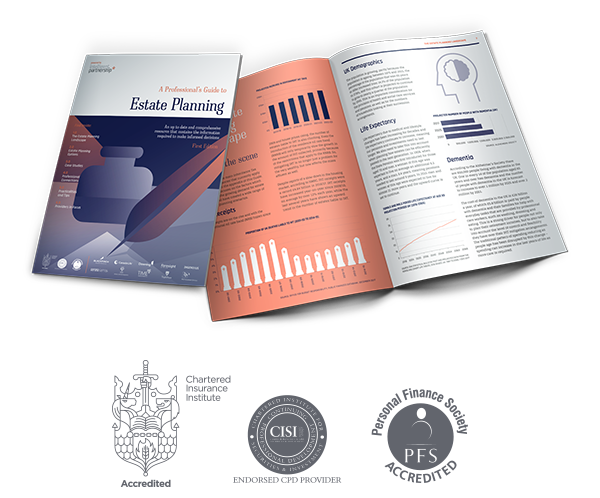 A Professional's Guide to Estate Planning
A concise and impartial reference document, giving common-sense assistance on the latest technical, planning and legislative aspects of estate planning.


Practical Guidance
Detailed overview of the types of estate planning methods and the technical complexities to be aware of

Case Studies
Real life examples of when and how the various estate planning options can be used and what they can achieve

Connections
Straightforward advice on developing professional relationships with financial planners and advisers

CPD Accreditation
Our guides are accredited by the CII, IFP and PFS. Give us feedback and don't forget to claim your CPD!
Learning objectives

» Understand the range of estate planning options that are available
» Feel confident discussing the various estate planning solutions with their clients
» Have the knowledge they need to evaluate estate planning advice their clients have received
» Feel confident to forge the relevant commercial relationships and to implement client referral arrangements
» Understand how to deliver holistic estate planning advice (subject to regulatory approvals to do so) either in conjunction with third party partners or their own wealth management division

Acknowledgements
A guide like this is rarely the product of one organisation's efforts: to ensure that it is up to date, comprehensive, accurate and captures all of the key issues requires an industry wide initiative.
We've had plenty of help producing this guide and would like to thank our co-authors Dave Robinson FCCA APFS IMC TEP LLAA CFPcm and Anne Hills FPFS Chartered Financial Planner. Both Dave and Anne are Chartered Financial Planners and work for Centurion Chartered Financial Planners.
We are also very grateful to John D. Bunker, Jane Finnerty, Fiona Graham, Edward Grant, Louise Polcaro, Claire Trott, Karon Walton. Their input is invaluable, but needless to say, any errors and omissions are ours.
Most of all we would like to thank our sponsors Blackfinch, Canada Life, Downing, Foresight Group, Ingenious, Oxford Capital, Puma, TIME, Triple Point, and WAY Group. It would not be possible to produce educational material like this without their generous support and contribution towards the production, printing and distribution of the Guide.
---
Brief Overview
The field for provision of professional services has opened up significantly in the last decade thanks to ongoing pressure from the government for more transparency and better consumer outcomes. The drive for more joined up services and the overlap in areas including estate and later-life planning has highlighted the synergies between legal, accountancy and financial advice professionals. And with their combined knowledge bases, but separate expertise, they have ongoing opportunities to work together to identify and fulfil all of the complementary needs of each other's clients. 
However, many lawyers and accountants may lack the confidence to engage directly with financial advisory or planning firms, perhaps because they feel that they do not have the tools to feel fully comfortable with the potential strategies that could be recommended to their clients.
At a time when the Treasury's IHT take is higher than ever, it is an apt time for more professionals, who may meet clients on a weekly or daily basis, with estate planning needs, a greater insight into the options available as well as the opportunities for their business.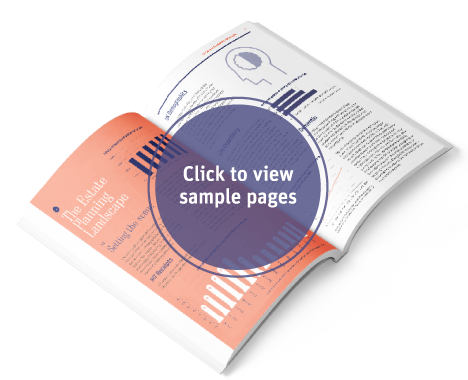 Early preparation is key to successful estate planning. Taking advantage of various solutions to secure wealth often ensures more can be passed on to the next generation
KAREN STACEY, HEAD OF DISTRIBUTION SERVICES, CANADA LIFE


Comments on Estate Planning
---

People do not plan enough financially for old age. There are also misconceptions as to the level of funding the Government will provide to those who require assistance.
Occasional Paper 31, Financial Conduct Authority, September 2017

Increasing choice and complexity for older consumers as a result of pension freedoms.
Occasional Paper 31, Financial Conduct Authority, September 2017

In spite of the push by the SRA and the government for the last 10 years to open up legal services and to try to engender better service to consumers, my view is that separate organisations still tend to be quite insular.
Fiona Graham, Institute of Family Business

Inheritance tax is clearly a huge area of MoneySaving. After all, you don't want to be super-savvy all your life just to have most of what you've saved go to the taxman.
Martin Lewis, Money Saving Expert

---
Prefer a hard copy?
If you would like us to send you a hard copy of this report, please click on the button below.