Despite real estate crowdfunding being a relatively new concept, with the global real estate market worth over $19 trillion per year, there is a huge opportunity for crowdfunding to exploit. In 2011 alone, $1.5bn was raised globally on crowdfunding platforms, $2.7 billion in 2012 and an estimated $5.1bn in 2013.
As a result of this growing trend, commissioned by Angels Den, we have produced a dedicated report to the sector as the first in a series of alternative finance sector reports. The report explains the background of crowdfunding, real estate investment and brings the two together into real estate crowdfunding.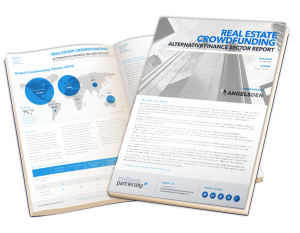 Why Real Estate Crowdfunding?
Real estate is one of the largest and best understood asset classes in existence. Many investors are familiar with the concept of buying, owning and letting property and with the benefits it brings to their portfolio such as diversification through regular income, the possibility of long-term capital growth and often providing a hedge against inflation.
Traditionally, direct exposure to real estate investments with Real Estate Investment Trusts (REITs) or direct purchases come with high minimum capital requirements, high transaction costs, regulatory restrictions and high ongoing management costs- making these avenues inaccessible for many investors.
For property developers, traditional lending models are often time consuming, costly and since the 2008 financial crisis, it has been much harder to secure credit from lenders due to tighter lending criteria and restrictive deadlines.
Crowdfunding has the potential to open up the real estate market to a much wider range of investors, in the same way that it is revolutionising investing into start-up companies and providing investors with strong returns and flexibility. A much larger pool of investors allows developers to raise financing for projects more easily. Some platforms boast that they have over 20,000 registered investors and can fully fund projects in less than 24 hours.
A Unique Insight into the Market
The real estate market in particular offers a diverse range of options and can play an important role in a portfolio. The variety in location, property type and development stage mean that the range of opportunities for investors is almost endless. Readers will be able to learn the benefits and risks of the various options.
The UK has recently implemented new regulations to cover crowdfunding and there are many considerations to make – regulatory requirements, protection of client funds, the amount of due diligence the platform undertakes and most importantly, lack of liquidity.  Within the report, these different risks and how to mitigate them have been covered in detail. This is essential for anyone when considering which platform to invest with.
Also included is a unique analysis based on data compiled from several popular real estate crowdfunding platforms, in order to build an accurate picture of the market. This provides investors with key insight into minimum investment levels, investment terms ranging from 6 months to several years, and returns of up to 33% on offer from investment opportunities available through real estate crowdfunding.
The report is available for FREE and can be accessed here.