The slightly nebulous area of 'vulnerability' has long been a regulatory grey area. 
On the one hand, the Financial Conduct Authority (FCA) has been consistent on what it defines as vulnerability. It has also viewed firms' ensuring vulnerable clients, or potentially vulnerable clients, have their situations taken into account as extremely important.
On the other hand, the FCA's definition of vulnerability is rather broad:  
'Someone who, due to their personal circumstances, is especially susceptible to detriment, particularly when a firm is not acting with appropriate levels of care.'
More than a few firms have found it difficult to pin down exactly what the FCA expects of them. The good news is, it seems the FCA has heard some of these concerns, and has begun looking at how it can improve its guidance for firms on what it considers fair treatment of vulnerable customers.
Currently the guidance is under consultation, so its final form may vary, but for now at least, the FCA has acknowledged some of the difficulties firms may have faced in considering how to treat customers fairly. This includes the transient nature of vulnerability making it hard to understand which customers are vulnerable, or potentially vulnerable, and the fact that customers themselves are often unwilling or unable to label themselves as vulnerable.
Although the new guidance does not provide the 'tick box' style answers some would have hoped for, it does give several examples of what it considers good and bad practice. This will likely be expanded once the FCA has received its feedback.
The FCA also outlines three broad areas firms need to be aware of: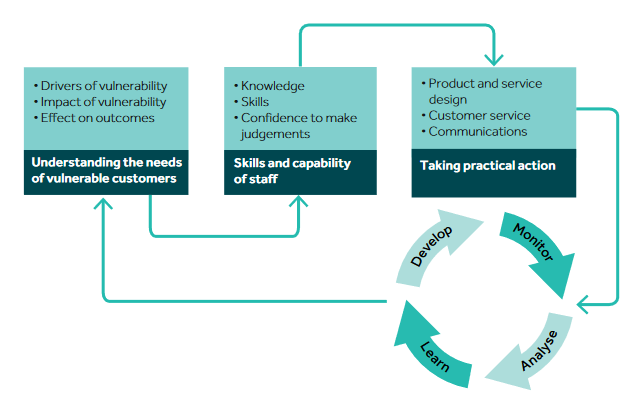 Importantly, the consultation indicates the FCA is doubling down on its concerns over vulnerability, and gives us a better idea of where the regulation is going for the future.
Discussing the consultation, Christopher Woolard, Executive Director of Strategy and Competition at the FCA, said: "Protecting vulnerable consumers is a key priority for the FCA and we want to see firms explicitly embedding the fair treatment of vulnerable consumers into their culture. Where we find that firms are not doing enough to ensure that consumers are treated fairly, we will take action.
"Firms need to take particular care to ensure that vulnerable consumers are treated fairly as they may be more likely to experience harm. The guidance should drive improvements across the industry, improving outcomes for millions of vulnerable consumers".
The messaging couldn't be clearer – the direction of regulatory travel with regards to vulnerability is only going one way, and firms that are not currently taking it seriously better do so, otherwise they will face regulatory action from the FCA.
This is brought into even sharper focus by the regulator's  suggested proposal of new high-level rules that relate specifically to vulnerable clients. One example it gives is of rules that would impose additional obligations on firms that target senior management responsibilities or wider firm systems and controls.
Currently it says it thinks such rules would be superfluous as it believes the guidance is underpinned by the existing FCA principles, however depending on responses to the consultation and future firm conduct, this could change.
The consultation period is due to close on 4 October, and the FCA said it plans to consult on revised draft guidance, as well as publishing a cost-benefit analysis alongside it. The second stage of the consultation may also include further market interventions, if those are deemed necessary.