EIS investment managers are now fully focused on growth strategies, and their target returns reflect this. The shift follows the rule changes following the 2017 Autumn budget.
The new "risk to capital condition" means that EIS offers can no longer be focused on capital preservation, and must be fully centred on growth capital. Although some EIS investment managers had to close or pivot their offerings to be compliant with the new rules, the shift in legislation is widely seen to give new legitimacy to the scheme.
High target returns
Nearly a year on from the rule changes, the vast majority of investment managers are focusing on a high growth strategy.
The latest data, taken from the MICAP database in October, shows that the most common target return is 2x the initial investment.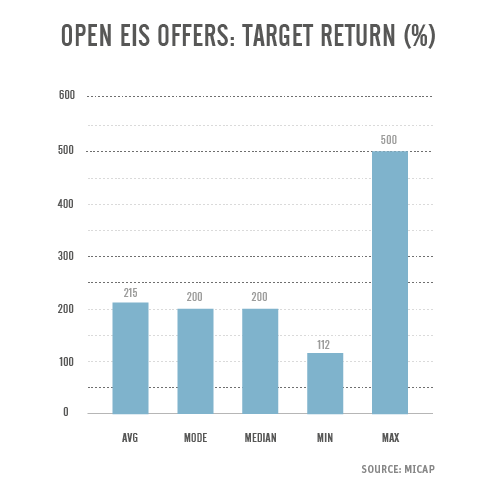 There are eight EIS offers in the market that have a target return of 300% or greater. Two offers are targeting a 500% return, one of them being a technology fund and the other a medical technology fund.
These levels of return signify a high growth strategy, and will very much be in line with the new risk to capital condition.
Caution over lower targets
The lowest target return for open EIS offers is 112%, which is little over returning the investor's capital. Considering the investment will have to be held for three years to qualify for income tax relief, this does not represent a high growth offer.
There are five open EIS offers that are targeting a return of 120% or lower (which is less than 10% of the market). However, with target returns this low, the question must be asked as to whether these strategies are truly growth capital focused. They may be working at the fringes of the rules.
Is SEIS a better option?
SEIS, which is predominately focused on startups, was often shunned in the past due to its higher risk profile. However, now that EIS has much higher risk requirements, SEIS offers may appear more attractive to investors. Of course, SEIS offers 50% income tax relief as opposed to the 30% associated with EIS.