Big Society Capital & Intelligent Partnership
Thank you for completing our survey
---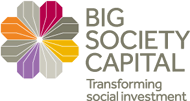 Big Society Capital is partnering with Intelligent Partnership (IP) to understand if EIS investment managers are ready, willing and able to develop social impact investments.
Social Investment Tax Relief (SITR) is a tax incentive designed to encourage investment into projects and organisations that aim to deliver social benefits as well as financial returns.
SITR has been based on the existing EIS reliefs, and in anticipation of the limit on how much can be invested into one organisation being lifted from £250,000 to £5m, Big Society Capital is keen to find out if the EIS managers are gearing up to step into this new market.
---
More about Intelligent Partnership
Intelligent Partnership is the UK's leading provider of education and insights on alternative investments. We deliver accredited research, training and events to a community of financial services and investment professionals. IFAs and Wealth Managers make up the majority of our 3,500 subscribers, all of whom are interested or active in alternative investments.
Our aim is to increase awareness and engagement amongst intermediaries, providing them with the tools and information they need to speak knowledgeably with their clients about the whole investment universe.
More about Big Society Capital
Big Society Capital is a financial institution with a social mission, set up to help grow the social investment market in the UK, so that charities and social enterprises can access appropriate repayable finance to enable them to grow, become more sustainable and increase their impact on society. It is doing this by building a diverse social investment market: encouraging investors to lend or invest money to achieve a social as well as a financial return. Since it was set up as an independent organisation in 2012, Big Society Capital has committed over £165 million in investments to specialist organisations who lend to charities and social enterprises.