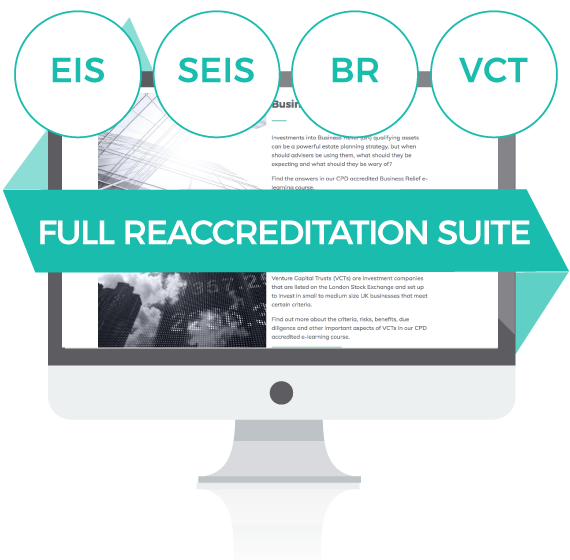 Our CPD accredited e-learning programme is aimed at regulated advisers, wealth managers, paraplanners, accountants and solicitors that require a recognised level of knowledge & understanding in areas of Tax & Estate Planning.  The three courses that comprise the Tax & Estate Planning accreditation are Business Relief (BR), Venture Capital Trusts (VCTs) and Enterprise Investment Scheme (EIS).
The reaccreditation course is a great refresher for a cross-section of those involved in private equity, tax-advantaged, estate planning and venture capital arenas. It enables learners to gain renewed CPD accreditation and certification evidencing successful completion of the course.
Find the answers in our Tax Efficient Planning accredition courses.
Please note: Reaccreditation is available only to those who have previously taken the full Business Relief course and claimed CPD for it. If you have not done so, you will not be provided with certification of CPD for time spent on this CPD reaccreditation process.
Please email Chris at chris@intelligent-partnership.com for a bulk buy option.